Status Quo:
– University of Huddersfield researcher Lorna Irish is currently investigating a set of ways in which specially trained dogs, who can perform phenomenal feats in sniffing out the whereabouts of bodies and body parts, will recognize vial tasks even more efficiently. Part of the research is currently working on as Ph.D. thesis consisting of setting out a sequence of vials containing different lab-prepared odors. The trained victim recovery dog (VR), Kip, from South Yorkshire Police has correctly identified the odors that are exclusively derived from decomposition. Her methodology includes forming links with a number of police forces from throughout the United Kingdom, while some of their handlers bring their VR dogs to the university where the research is done to make them part of the specially-devised experiments.
Photo Credits: sciencedaily.com
– There is an approximate number of 70 VR or cadaver dogs trained in the UK and they are mostly used by police forces, although some special organizations such as search and rescue teams also have some. Although these dogs have been used for many years now, according to the researcher there isn't a very widespread awareness of their existence or their work.
"They are mostly used for human remains detection, not just in murder cases but for suicides too. For example, if somebody has been hit by a train, the dogs are used to locate body parts. They have also been used after incidents such as the 7/7 bombings. They can also be used for blood detection, if there has been an assault for example, and in Lancashire they train their dogs to identify semen as well, so they can be used in sexual assault cases," explained Lorna.
– The researcher (24) from Ilminster, Somerset achieved first class honors for her bachelor's degree in Forensic and Analytical Science. She is currently working on the Ph.D. project due for completion in September 2015, revolving around The Identification and Qualification of Gaseous Products in relation to Cadaver Dog Efficiency, devised by the forensic anthropologist Dr. Anna Williams. As part of her research, Lorna has visited a number of police forces' operational cases and during the visits to Northern Ireland she has witnessed VR dogs with the astonishing ability of detecting odor from an underwater cadaver, while they are on a boat. The chemicals which were given off by submerged remains have become a key strand of Lorna's research.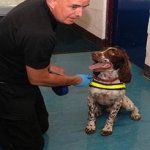 Photo Credits: sciencedaily.com
– Her plans are to visit even more police forces around the UK which are equipped with VR dogs, in order to witness their training methods; she will also get a few visits to the University of Huddersfield – the most proximate one being in October, when victim recovery dogs and their handlers from Dyfed Powys in Wales are schedule to visit.
Scientific premises and experiments:
– John Ellis and Mark Adams from South Yorkshire Police are the most recent visitors who brought their trained victim recovery dog, springer spaniel Kip, to the University to make it subject of her research program.
"If you train a dog with a chemical that is specific to human decomposition, you can enhance its ability. It is not about changing the way the dogs do it, but improving it," she added.
– A sequence of vials which contain different odors she'd prepared in the lab was set out. The chemicals are produced from the decomposition process. Along with the test chemicals there were also 'positive controls' which are associated with human cadavers: human bones from archaeological sources and pork at various stages of decomposition. There are two reasons for which pork meat is being used in training dogs: ethical and legal issues concerning obtaining human material and the fact that pork meat is believed to be the closest analogue for human flesh when it comes to decomposition studies. 'Negative controls' were also used: smelly chemicals that are not associated with decomposition, such as clove oil.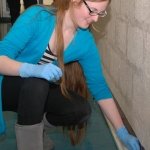 Photo Credits: sciencedaily.com
– The dog has managed to correctly identify the odors that derive from decomposition and the negative control smells did not distract it, which makes the demonstration successful. Unfortunately, VR dogs can sometimes be distracted by 'false positives' in the field: dead animals, even some types of mushrooms according to the forensic researcher. This entire problem could be solved if, as her Ph.D. thesis, Lorna Irish could arrive at a greater understanding of the chemistry of odors from human cadavers, since this would make the trained dogs extra efficient.